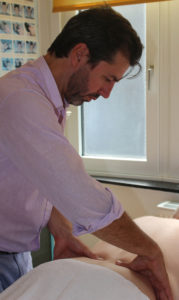 I am working as an independent Tui Na massage therapist and acupuncturist. For 7.5 years I have been working as a masseur at a Chinese Medical Center, of which the last year also as an acupuncturist. In 2018 I graduated for my exams. Because I am a member of the professional association Zhong my treatments are reimbursed by most health insurers.
Thru a career in marketing and sales (IBM, KLM, Web 3, RTV Maastricht) and as an artist I came into contact with Chinese medicine about 10 years ago. Although I liked to massage as a child, I never thought of making it my profession at that time. When I was asked 7.5 years ago by a Chinese therapist to come and give massages, this forgotten love came back to life. Ultimately it has led me to combine my business experience, creativity and love for life in practicing an age-old medicine that only seems to increase in relevance in our world today. I am immensely grateful for this.
About the name: De Witte Os
I chose this name because it inspires me. For me, it reflects our potential as a human being. It is an image that comes from the Zen Buddhist tradition where "The ten pictures of the ox" relate to the search of man to find his true nature, or in more modern words, relates to the search of man to find his Heart. I am convinced that our human potential is unconditional, inexhaustible and limitless. I also think it is our deepest motivation to discover our true nature, our Heart; each of us in its own unique way. De Witte Os not only reminds me of the strength of the Heart, but also of the desire for a mindful society with space for the head and the Heart.
Through De Witte Os I hope to be able to support people and help them deal with the forces and the counter forces that we all have to deal with, and to face life's challenges in fertile way.